Dallas College: Minting High-Quality Early Educators Through a New Degree and Real-World Experience
June
2023
Member Spotlight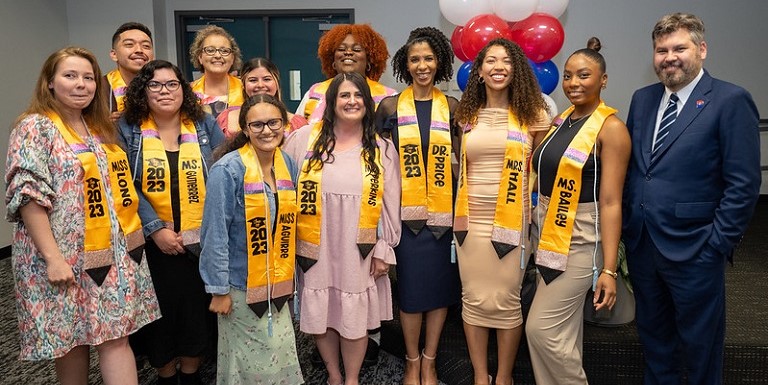 For the first time in its 57-year history, Dallas College is graduating a class of bachelor's degree students this year. This occasion marks a pivotal moment for more than 100 students at one of Texas's largest community college systems, which previously offered associate degrees as its highest degree credential. The program presents students with a life-changing opportunity via a full tuition scholarship and career pathway toward a $60k first-year job. Furthermore, this innovative program attracted the attention of the Bezos Foundation, resulting in the launch of a tuition-free, on-campus early childhood center for children of student parents at Dallas College who meet eligibility criteria.
Each program graduate receives a degree in early childhood education from the School of Education (SOE), which was created when the Dallas County Community College District consolidated its separately accredited colleges into one system almost three years ago. Among the seven unique schools that were created during the merger, the SOE is the only one to offer a bachelor's degree so far, with a bachelor's degree in nursing expected to be approved soon.
Why did Dallas College decide that its inaugural bachelor's degree would center on education, out of the many career fields that are currently in need of more workers? The answer is twofold. First, the nation's youngest children are in dire need of high-quality instructors, of which there is currently a nationwide shortage. Second, Dallas College students aiming to lead the classrooms of the future need to be equipped with a credential that not only represents their readiness to effectively teach in early childhood settings, but also improves their job prospects and salary potential.
Dallas College leaders resolved that a bachelor's degree in early childhood education would ensure that educators have the knowledge, skills, and qualifications required to provide high-quality education and meet the professional standards for teaching young children in Texas. "By establishing a Bachelor of Applied Science in early childhood education and teaching program in 2021, Dallas College and the School of Education opened a new and exciting pathway to the teaching profession in Dallas County," said SOE Vice Provost and founding Dean of Early Childhood Education Rob DeHaas. He continued,
We're now seeing these students on the cusp of graduating and fully prepared to become teachers themselves—an opportunity that has been accelerated through the bachelor's degree program in an area where there is currently a dearth of highly qualified teachers in the state.
According to a 2021 report by the National Association for the Education of Young Children, about 35 percent of center-based early childhood educators hold a bachelor's degree. A bachelor's degree in early childhood provides educators with a comprehensive understanding of child development, educational theory, and classroom management techniques, all of which are essential for creating and implementing developmentally appropriate teaching strategies that promote positive learning outcomes for young children.
Meeting a Real-World Need Made More Acute by the COVID-19 Pandemic
When the SOE's bachelor's degree program began admitting students into upper-level classes in fall 2021, the profession was at a turning point amid the COVID-19 pandemic and the spate of retirements and job changes caused by the global crisis. The pandemic also highlighted longstanding issues such as low pay, inadequate support, and challenging working conditions that make it difficult to attract and retain teachers.
Prior to the pandemic, the U.S. Bureau of Labor Statistics (Torpey, 2018) estimated that 270,000 primary and secondary education teachers would leave the occupation each year through 2026. The pandemic elevated those numbers; a National Education Association (Flannery, 2020) poll found that nearly one in three teachers said COVID-19 made them more likely to resign or retire early.
The need for new teachers has been particularly acute in rural areas and low-income school districts, where it can be harder to attract and retain qualified teachers. In Texas, there were over 31,000 teacher vacancies during the previous school year, and more than 11,000 of those positions were in core subject areas such as math, science, and special education (Texas Education Agency, 2022). In terms of readiness, the Annenberg Institute for School Reform at Brown University (Nguyen et al., 2022) found that at least 163,000 positions across the country are held by underqualified teachers.
At Dallas College, training and shaping bachelor's degree students into qualified teachers involves introducing them to the classroom early through a novel residency program that allows them to gain experience leading classrooms in real-world settings. This earn-and-learn apprenticeship program was recognized in March 2022 by the U.S. Department of Labor as the first tuition-free teacher apprenticeship program in Texas.
The SOE has made a concerted effort with local school districts to strengthen the teacher pipeline by modeling a hands-on training program like those successfully employed in other professions, such as fast-track apprenticeships in health care. Dallas College is now the first community college in Texas to offer a registered teaching apprenticeship. Through a paid apprenticeship model, trainees gain real-world experience and earn a salary with partner school districts while earning their degree.
The nearby Richardson Independent School District and Uplift Education, with several preparatory high schools in Dallas's urban center, have joined Dallas College in the apprenticeship program, and have placed Dallas College SOE students at schools most in need of additional teaching staff. Students in the first residency cohorts earned $30,000 each in year-long residencies last fall. Students work three days per week in classrooms, then either tutor or serve as a substitute one day per week. At scale, the apprenticeship program aims to serve 200 future educators in partnering school districts across Dallas County.
"The apprenticeships are helping fill short-term workforce needs of our partner school systems while providing a rich, career-embedded learning opportunity for Dallas College students, resulting in a living-wage job," said Dallas College Dean of Educator Pathways Sara DeLano. "We are thrilled to be working with two local school partners on an apprenticeship program that removes financial barriers and supports school systems in growing their own pipeline of talented educators."
Overcoming Barriers to Success and Growing the Future Teacher Workforce
Fewer students nationwide are completing teacher preparation programs (American Association of Colleges for Teacher Education, 2022), and experts say that student debt is a big factor (Garcia & Weiss, 2020). By providing a program at just $79 per credit hour, Dallas College SOE has made teaching a viable opportunity for more local students who cannot afford to attend a four-year university.
Until now, getting a bachelor's degree has been out of reach for Juan Sandoval. A math tutor since 2015, he had often thought about becoming an elementary school teacher. "When I first looked into it, money was an issue and time was an issue," he said. "But now I can see a path forward. It's a great deal. I will be paying the same amount for my bachelor's that I did for my associate degree."
Ramia Dawes, a single mother of two, had been driving a school bus for 11 years when she decided she wanted to become a teacher. She is among the 125 students receiving their bachelor's degrees in education this May. "Being an educator became a dream of mine, so I enrolled in the Dallas College bachelor's in education program and it's truly the best decision I've ever made," Dawes said. "Dallas College has made me become more goal-oriented and the one-on-one coaching at Dallas College has given me purpose."
Approximately 430 students are currently taking upper-level classes toward a bachelor's degree through SOE and on track to graduate in the next two years, said Jeffrey Miller, SOE's Dean of Student and Faculty Empowerment. Additionally, more than 1,100 students who are currently taking classes toward an associate degree have indicated that they will apply to the bachelor's program and have selected it as their program of study.
The faculty who are nurturing these future educators believe that increasing the number of high-quality pathways available to students who want to become credentialed educators will make a big impact for generations to come. Dallas College's first bachelor's cohort is ready to enter the workforce as early childhood educators and public school teachers credentialed with degrees that will also help them earn more in the workplace and advance to leadership positions.
"While new, the Dallas College School of Education continues to push the envelope in the higher education space," said Dallas College Chancellor Justin Lonon. He continued,
The school has quickly established itself as a national model with its focus on regional workforce development, assurance of high-quality early childhood teacher preparation, and a relentless focus on providing postsecondary access to populations often underserved and overlooked by traditional institutions of higher education.
References
American Association of Colleges for Teacher Education. (2022, March 22). AACTE's national portrait sounds the alarm on declining interest in education careers. https://aacte.org/2022/03/aactes-national-portrait-sounds-the-alarm-on-declining-interest-in-education-careers
Flannery, M. E. (2020, August 14). Safety concerns over COVID-19 driving some educators out of the profession. NEA Today. National Education Association. https://www.nea.org/advocating-for-change/new-from-nea/safety-concerns-over-covid-19-driving-some-educators-out
García, E., & Weiss, E. (2020). A policy agenda to address the teacher shortage in U.S. public schools. Economic Policy Institute. https://files.epi.org/pdf/186493.pdf
National Association for the Education of Young Children. (2021). Preparing a profession: Perspectives of higher education leaders on the future of the early childhood education
workforce. https://www.naeyc.org/sites/default/files/globally-shared/downloads/PDFs/our-work/higher-ed/final_higher_ed_leadership_report.pdf
Nguyen, T. D., Lam, C. B., & Bruno, P. (2022). Is there a national teacher shortage? A systematic examination of reports of teacher shortages in the United States. Annenberg Institute for School Reform at Brown University. https://www.edworkingpapers.com/ai22-631
Texas Education Agency. (2022, March 22). TEA establishes teacher vacancy task force to address ongoing staffing challenges in public education. https://tea.texas.gov/about-tea/news-and-multimedia/news-releases/news-2022/tea-establishes-teacher-vacancy-task-force-to-address-ongoing-staffing-challenges-in-public-education
Torpey, E. (2018). Projections for teachers: How many are leaving the occupation? Career Outlook. U.S. Bureau of Labor Statistics. https://www.bls.gov/careeroutlook/2018/data-on-display/how-many-teachers-are-leaving.htm
Lead image: Program graduates attended a recognition ceremony prior to commencement activities in May 2023.
Bradford Williams is Vice Chancellor, Operations, and President, El Centro Campus, for Dallas College in Dallas, Texas.
Opinions expressed in Member Spotlight are those of the author(s) and do not necessarily reflect those of the League for Innovation in the Community College.