Johnson County Community College: Partnership Steers ESL Students Toward High-Demand Jobs in Trucking
April
2021
Member Spotlight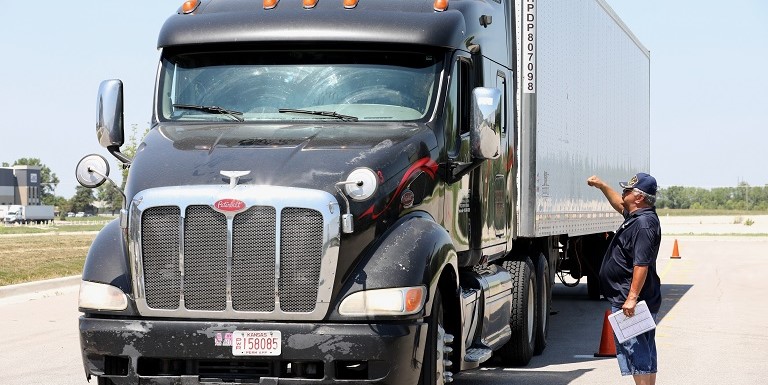 A unique partnership between Johnson County Community College's (JCCC) Continuing Education Transportation program and Johnson County Adult Education's (JCAE) Literacy program puts newly trained truck drivers on the road to success. The initiative helps non-native English speakers in Johnson County obtain workforce skills in truck driving.
Chris Specht, former Program Coordinator of Accelerating Opportunity: Kansas at JCCC, began laying the groundwork in 2017. Thanks to the combined effort of many at the college, the program officially launched in summer 2020.
"The collaboration between the CDL training class and JCAE's English as a Second Language (ESL) program is changing the lives of non-native speakers so they can get high-wage, high-demand jobs in the transportation industry," said Josh Smith, Program Director in Continuing Education at JCCC.
Truck drivers' benefits usually include health insurance, paid time off, and great starting pay. First-year drivers can earn $50,000 a year, and some earn more than $60,000. All classes through JCAE are taught in English. Students come from all over the world; in fact, over 50 languages are spoken.
Five students have already earned their CDL permits and passed the theory part of the testing. The additional ESL instructor resource has certainly helped them excel. They will test for their CDL-A licenses by the end of April and will complete their ESL classes in mid-May. Each looks forward to an exciting career in the trucking industry. "These five students have the highest class average on the theory portion of testing of any prior CDL class at JCCC," said Smith.
The students are from Algeria, Brazil, Colombia, Guatemala, and Somalia. They have a range of educational backgrounds. Despite their differences, they have one thing in common: None had experience driving a commercial truck or even a manual transmission before this program.
Their shared experience in the program has created a tight-knit bond. "They've built immense trust and mutual respect for one another," said Smith. "They study together, encourage and challenge one another, and occasionally give each other a hard time to keep things fun and interesting."
In addition to the demands of the program, each student works a full-time job or supports their family full time. At least one student supports family overseas, and one had household family members fall ill with COVID-19 while completing theory classes. Program participant Ronal Cruz, for instance, had to request time off work when his coursework got too demanding, but he remains committed to accomplishing his career goal. "If you want something good, you have to make sacrifices. The good things do not come easy," he said.
Despite bumps in the road, these students are in it for the long haul. They are committed to learning truck driving skills, regulations, processes, and best practices—all in English, a language none of them grew up speaking. "They're dedicated, hardworking, and have accomplished so much," Smith said.
To explore how JCCC's CDL program puts students on the road to success visit jccc.edu/cdl.
Lead image: Commercial truck driving instructor Frank Perez directs a student on the next maneuver during CDL training (photo by Susan McSpadden/JCCC).
Kristi Stanley is a Marketing Copywriter at Johnson County Community College in Overland Park, Kansas.
Opinions expressed in Member Spotlight are those of the author(s) and do not necessarily reflect those of the League for Innovation in the Community College.