Midland College: Early College High School Receives National and State Accolades
February
2016
Member Spotlight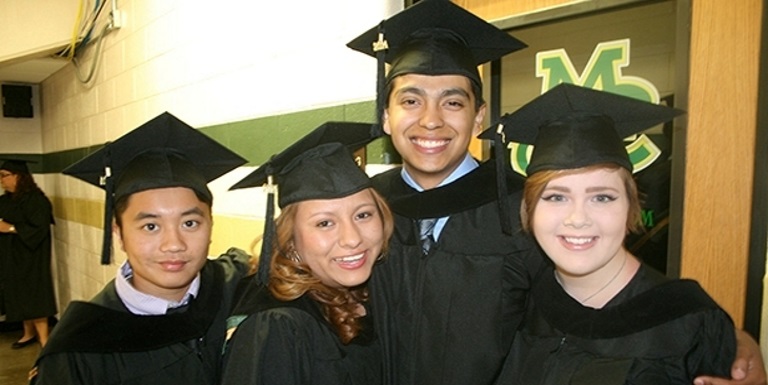 In the fall of 2009, the first cohort of more than 100 ninth-grade students were admitted into Early College High School at Midland College (ECHS@MC). The school focuses primarily on serving first-generation college students, those with a low socioeconomic status, and/or those whose ethnicities are underrepresented at the college level.
Today, Midland College (MC) and the Midland Independent School District (MISD) have recognized three cohorts of graduates from the successful program. Over 85 percent of those students received associate degrees from Midland College at the same time they received their high school diplomas. According to ECHS@MC Principal Renee Aldrin, students who did not graduate with an associate's degree were just a few credits short of their degree at the time of high school graduation. 
Most of the ECHS@MC students transfer to four-year universities, which means that these students have the potential of graduating with baccalaureate degrees by the time they are 20. When a sample of ECHS@MC students were surveyed about plans after obtaining bachelor degrees, three out of five stated that they wanted to return to Midland, mainly because the community provided such generous scholarships and educational resources. They want to reside in Midland in order to work, raise families, and give back to the community.
Diamond Brown is one of those ECHS@MC alumni who plan to return to Midland when she earns her bachelor's degree in animal science at Angelo State University.
"At ECHS, we had tremendous support from our teachers and other students," said Brown.  "I was certainly well-prepared academically, probably more so than a lot of my classmates.  Also, had it not been for ECHS@MC, I probably would not have gone to college. The staff helped us with our college applications and financial aid paperwork. ECHS provided the smaller atmosphere that I needed in order to get one-on-one support."
MISD Superintendent, Dr. Ryder Warren, said, "One of the shining examples of success from the partnership between Midland ISD and Midland College is Early College High School at Midland College. Through the support of our two organizations, charitable foundations, business leaders, and our community as a whole, we have developed a culture of excellence at ECHS@MC in which hundreds of young men and women not only earn high school diplomas from MISD, but also earn an associate's degree from Midland College. Their success is a true testament to the nature of giving and support that Midland gives its children."
This past July, ECHS@MC received a bronze-level distinction from U.S. News & World Report. This designation is based upon high performance on standardized tests. 
In August 2015, ECHS@MC was one of only 153 schools in Texas out of more than 8,600 campuses earning all seven distinctions in state accountability ratings. Distinction designations are awarded to campuses based on achievement in performance indicators. 
In an August 10 press release, Texas Commissioner of Education Michael Williams stated, "Earning any type of distinction under the state accountability system is commendable and should be a source of pride in a community. Achieving all seven distinctions reflects extraordinary work taking place on a campus while affirming a strong commitment to students."
Principal Aldrin said, "Our students work extremely hard. We have superstar teachers. This speaks highly of our faculty and staff, and of the aspirations of our students." 
ECHS@MC graduate Brittany Frantz is currently attending Texas A&M University and majoring in business marketing. Thanks to her start at ECHS@MC and her excellent grades, she received a full-ride scholarship and has acclimated well to a large university.  Her ultimate goal is to get her master's degree and either teach or work in the nonprofit sector. 
Joel Covarrubio, another ECHS@MC graduate, works with military veterans in the San Marcos, TX, area where he attends Texas State University (TSU) and is majoring in criminal justice. When he graduates, he plans to join the Army or a police department in order to gain experience before applying to the FBI.
The early college high school philosophy is not unique to Midland; however, ECHS@MC has one of the highest percentages of students receiving both associate degrees and high school diplomas in the state. In addition, since its opening in 2009, ECHS@MC has always had the highest state test scores in MISD, as well as the best discipline and attendance reports.
"Early College High School at Midland College is closing the achievement gaps among different demographic groups," stated MC President Dr. Steve Thomas. "Because of this successful partnership between MC and MISD and the support that both entities are able to give these students, they are successful in their high school classes as well as their college courses. We set the standards high, and ECHS@MC students have not disappointed us."
Opinions expressed in Member Spotlight are those of the author(s) and/or submitting college and do not necessarily reflect those of the League for Innovation in the Community College.