Moraine Valley Community College: Partnership With Nissan's Technician Training Academy Provides Students Apprenticeships and Jobs Upon Graduation
May
2023
Member Spotlight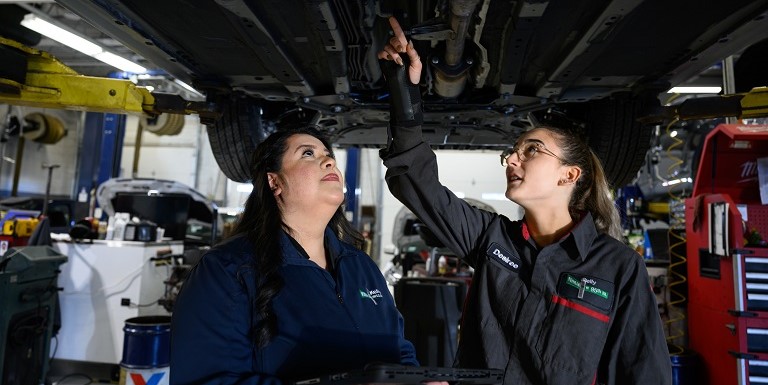 As apprenticeships gain momentum in higher education across the U.S., students are finding that these opportunities are the perfect springboard into a career they love while businesses are receiving qualified employees who can make a quick transition into their workforce after graduation. And community colleges are the vehicles that bring everyone together, making apprenticeships a win-win-win for everyone involved.
Moraine Valley Community College offers students in its Automotive Technology Program an apprenticeship opportunity through a unique partnership with Nissan North America, Inc. In 2018, the college was selected to house a Nissan Technician Training Academy, which prepares students for careers as factory-trained technicians at Nissan and Infiniti dealerships. In the academy, students are trained to fix Nissan and Infiniti automobiles, study at the Nissan Virtual Academy, and gain hands-on experience through a required apprenticeship at a local dealership that hopefully will hire them upon completion of their program.
Nissan has 26 of these partnerships nationwide, but Moraine Valley has the only one in Illinois and four neighboring states (the next closest academy is in St. Louis, Missouri). When searching for community colleges with which to partner, Nissan looked at areas with many dealerships and then researched nearby schools certified by the ASE Education Foundation, a nationally recognized accrediting organization and division of the National Institute for Automotive Service Excellence (ASE). Having ASE certification means the college's Automotive Technology Program is meeting industry requirements. Moraine Valley has been certified by ASE since 2003 and goes through a recertification process every five years.

Ira Siegel (right) instructs a student in the Nissan Technician
Training Academy how to diagnose a Nissan.
Ira Siegel, Professor and Program Coordinator of Automotive Technology at Moraine Valley, said,
Nissan met with us and two other area schools, but ultimately chose us because we already had a similar training program in place [MOPAR Career Automotive Program with Chrysler, Jeep, and Dodge]. They liked that we were working with another manufacturer and felt we would be the best choice in the area to offer their Nissan Technician Training Academy. We also already had a relationship with the Nissan Training Center in Aurora [Illinois] because one of their instructors used to teach here part time and would notify us when they were getting rid of vehicles and components.
Students pursuing the college's 12-course Automotive Service Technician certificate program or Associate in Applied Science have the option to enroll in the Nissan Technician Training Academy if they want to gain those specialized skills. Those who enroll are mainstreamed into the same classes other automotive students take, but instructors are notified that they are in the Nissan academy. Faculty then provide them with Nissan vehicles to work on in the lab, so they get familiar with the product; the service information; and the factory scan tool, which is the same diagnostic analyzer dealerships use to plug into the car and interact with the car's computers. In addition to their classes at Moraine Valley, students complete online training courses through Nissan's Virtual Academy, and execute corresponding tasks on Nissan vehicles in the lab. They are also required to begin an apprenticeship after the first semester. "We're able to train the students on the exact equipment they are going to use at the dealerships, and Nissan estimates their dealerships will have 6,000 technician jobs over the next five years," noted Siegel.
So far, Nissan has provided the college with 12 Nissan vehicles, including three battery electric LEAFs and one Infiniti product. According to Siegel, most of the other Nissan academies don't have electric vehicles for students to train with, but Moraine Valley was lucky to get them from the Nissan Training Center. To do so, Siegel had to prove to Nissan that he and other instructors were certified through ASE in hybrid and electric vehicles.
"They wanted to make sure we aren't just handing those cars over to somebody who didn't know what they were doing and could get hurt. There are dangers involved. They are high voltage," Siegel said. He continued,
We use them for safety training, how to properly power them down so they are safe to work on. We don't take them apart or take the battery pack out of them, but this gives our students an edge over some of the other academy graduates.
As part of the partnership, Nissan is very involved in Moraine Valley's Automotive Technology Program. The dealers provide the college with vehicles, components, engines, transmissions, and access to service information and the Virtual Academy as well as job opportunities for students. Representatives sit on an advisory board that meets twice a year to determine the curriculum that will guide faculty on skills taught in the classrooms and labs, and provide weekly reports to Siegel on students' progress in the Virtual Academy. Managers from the Chicago metro area judge a skills competition the college holds with district high school automotive programs and coordinate efforts to get service managers from their dealerships to talk to the students during lunch about local job opportunities. People at the corporate office also oversee the program and support the relationships between the college and dealerships by encouraging dealers to take on Moraine Valley's students as apprentices.
Since its inception, eight students have graduated from the Nissan Technician Training Academy. Six students are currently enrolled in the program, all of whom are working at Nissan or Infiniti dealerships while going to school. Desiree Zizzo recently completed her training and will graduate this month. She always knew she wanted to be an automotive technician, but she didn't have plans to work for a specific dealership until one of her instructors informed her about the Nissan Technician Training Academy and the many job opportunities and scholarships it offered.
After talking with Siegel, Zizzo joined the academy and said it completely prepared her for her apprenticeship at Kelly Nissan in Oak Lawn, Illinois, where she was hired to work after graduating from Moraine Valley. "I got a lot of training there. They gradually gave me different things to work on, and if I hadn't done something, I just asked questions, and they would teach me," Zizzo said. "I like working on Nissans because the engine is more open so it's a lot easier to get in and work on things. The service manuals make a lot more sense; it's obvious and noticeable what you have to do to fix it."
In addition to getting factory-specific training, students in the Nissan Technician Training Academy reap financial benefits such as Nissan paying for them to take practice tests through ASE so they can get Nissan and ASE certification. Some Nissan and Infiniti dealerships participate in a tuition reimbursement incentive program in which Nissan North America will match the amount a dealership contributes up to $6,000 over a two-year period. Nissan also partners with the Tech Force Foundation, which provides $2,000 scholarships to students who meet the GPA requirement and are working in a dealership. So far, three Moraine Valley students have received a scholarship from the Tech Force Foundation, and they can apply for it every calendar year for a total of $4,000 over two years.
The Nissan Technician Training Academy provides all of the aforementioned benefits to students at Moraine Valley, yet Siegel says you can't put a price on apprenticeship programs. He stated,
It's the best way to learn. It's how I learned. I would be learning things on the job that I hadn't learned in school, and my classmates would ask, "How do you know how to do that already? We didn't learn that yet." I was fortunate to be working with other technicians who would show me how to perform various tasks. I can't speak enough on that impact and the opportunity to be working in the field while you're going to school. You're going to pick up a lot more than if you wait to start looking for a job after graduation.
Lead image: Moraine Valley Automotive Technology student Desiree Zizzo (right) explains the repair to Diana Valdez, Assistant Service Manager at Kelly Nissan, where Zizzo is completing an apprenticeship through the Nissan Technician Training Academy.
Jessica Crotty is Assistant Director, Marketing and Communications, at Moraine Valley Community College in Palos Hills, Illinois.
Opinions expressed in Member Spotlight are those of the author(s) and do not necessarily reflect those of the League for Innovation in the Community College.