Polk State College: Innovative Partnership Fills Local Need for Teachers
April
2019
Member Spotlight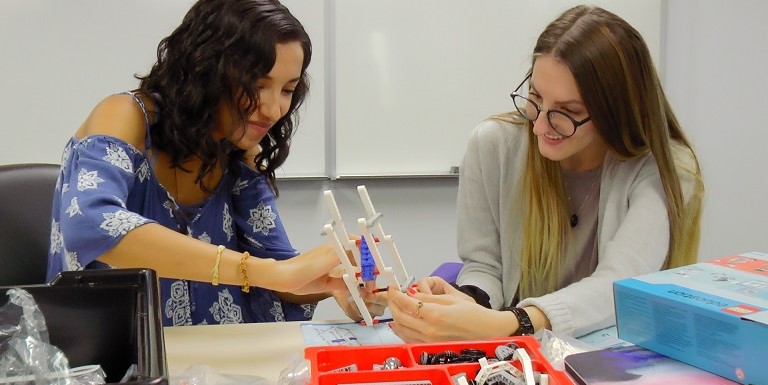 The need for qualified educators continues to grow locally, statewide, and across the country. Nationally, nearly 100,000 teaching positions were filled by individuals not fully qualified to teach as school districts headed into the 2017-2018 academic year, according to the Learning Policy Institute (2017). Polk County Public Schools started classes in August 2018 with nearly 100 teacher vacancies. As Polk County's only public postsecondary institution offering state-approved teacher education preparation programs, Polk State College partnered with Polk County Public Schools to create the Establishing Leaders in Teacher Education (ELITE) program, which has received national attention and recognition from the Florida College System for its innovative approach to creating a direct pipeline of quality teachers to fill workforce needs locally and beyond.
What Is ELITE?
The ELITE program creates a seamless pathway from high school to college to employment for aspiring educators. Students may apply for ELITE at three area high schools, where they complete teacher preparation courses and Polk State Associate in Arts degrees through dual enrollment and early admission at no cost to them. ELITE students then transition into Polk State's Education baccalaureate program, putting them on an affordable fast track to completing bachelor's degrees and Florida teacher certification. ELITE focuses on rigorous coursework and multiple field experiences in a variety of elementary classrooms to ensure that the partnership creates quality teachers. ELITE graduates will be immediately eligible for employment with Polk County Public Schools.
While enrollment in teacher preparation programs across the country has fallen, Polk State College and Polk County Public Schools are using an innovative approach to recruit and cultivate teacher candidates through ELITE by identifying ninth graders enrolled in education career programs. Those students with unweighted grade point averages of 3.0 or greater may apply to participate as dual-enrolled students in ELITE from 10th through 12th grade, igniting in them the passion to teach while giving them a head start at becoming future leaders of Polk County's classrooms.
A Growing Partnership
Polk State College and the School Board of Polk County have a mutual interest in addressing Florida's critical teacher shortage and ensuring the availability of highly effective teachers for Polk County students and families. Through the ELITE program, these partners are encouraging secondary students to pursue a career in teaching, building upon a long partnership between the college and Polk County Public Schools.
In May 2012, the University of South Florida exited Polk County, creating a critical need for access to local, affordable education degrees. In response, Polk State College launched its Education baccalaureate program in August 2016 with Bachelor of Science degrees in early childhood education and elementary education. Developed in collaboration with Polk County Public Schools—Polk County's largest employer—the program has built-in measurements for state-mandated standards and professional competencies for certification endorsements in English for speakers of other languages (ESOL) and reading. The curricula also integrate a variety of objectives for teacher preparation in science, technology, engineering, and math (STEM) and strategies appropriate for students with disabilities. Paired with valuable field experiences in Polk County Public Schools, Polk State's Education baccalaureate students are prepared to fill the increasing demand for qualified educators.
From left to right: Teresa Martinez, Vice Chair, Polk State College District Board of Trustees; Patricia Linder, Director of Education, Polk State College; Madeline Pumariega, former Chancellor, Florida College System; and Angela Garcia Falconetti, President, Polk State College at the Association of Florida Colleges' 69th Annual Meeting and Conference
In December 2018, Polk State's Education baccalaureate program graduated its first class, which maintained an average grade point average of 3.94. Each student passed all certification exams for Florida Professional Educator Certificates. Additionally, all six students participated in Polk County Public Schools internships and accepted jobs in local classrooms.
The college boasts a 96.93 percent job placement and continuing education rate, and with 70 percent of Polk State graduates staying in Polk County after graduation, the Education baccalaureate program is confident that it will see success in placing teachers in Polk County Public Schools classrooms.
The ELITE Program received the Chancellor's Best Practice Award from former Florida College System Chancellor Madeline Pumariega. The program was also featured by CBS This Morning, the American Association of Community Colleges (AACC), and the Lumina Foundation.
Resource
Carver-Thomas, D., & Darling-Hammond, L. (2017, August 16). Teacher turnover: Why it matters and what we can do about it. Palo Alto, CA: Learning Policy Institute. Retrieved from learningpolicyinstitute.org/sites/default/files/product-files/Teacher_Turnover_REPORT.pdf
Lead photo caption: Polk State College Education baccalaureate teacher candidates participate in a hands-on lesson in the Steelcase Education Active Learning Classroom on Polk State's Lakeland Campus.
Dr. Angela Garcia Falconetti is President and Madison Fantozzi is Director, Communications, at Polk State College in Winter Haven, Florida.
Opinions expressed in Member Spotlight are those of the author(s) and do not necessarily reflect those of the League for Innovation in the Community College.