Portage College: 360 Virtual Recruitment Tool
April
2018
Member Spotlight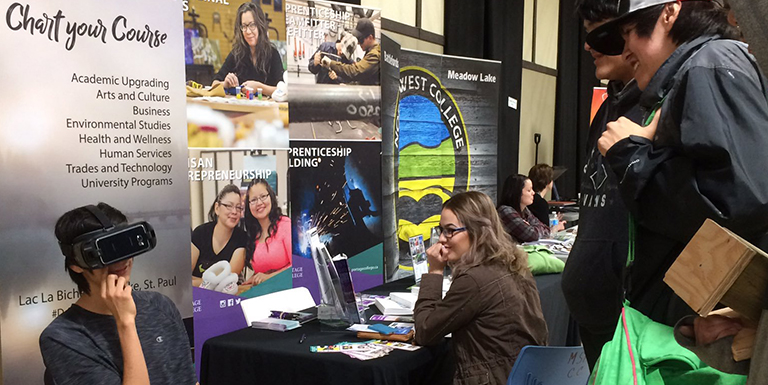 If a picture is worth a thousand words, then a virtual reality (VR) tour must be worth a million. Portage College has seven campus locations throughout northeastern Alberta, a vast rural region in which it is difficult to provide potential students an on-location experience. Since one of the primary ways an individual chooses a college is by visiting it, we decided if students can't get to us due to distance and travel time, why not bring it to them?
Portage College produced a 360 VR tour video to show potential students our campuses, program labs, and local areas. The Corporate Communications, Marketing, and Student Recruitment departments, then, teamed up to plan the VR recruitment campaign. Once the tour video was uploaded to YouTube and the Portage College website, the college invested in Samsung phones with goggles to take on the road. A team, including Joleyne Mayers, Recruitment Lead; Marina Zayonc, Junior Recruiter; and Marketing Specialists Janice Bryks, Jacqueline Giasson, and Mikaela Norton, traveled all over Alberta, Saskatchewan, and northeast British Columbia to high schools, career and education fairs, community events, and educational circuits. The recruitment and marketing teams set up stations for the VR experience, and students lined up to try out the technology.
During their travels, college representatives took advantage of the opportunity for one-to-one interaction with potential students. Portage College has over 30 different certificate and diploma programs and several online learning options. Creating interest in the learning experiences at Portage College and getting students to act based on that interest is the primary goal of this campaign.
"The time spent with potential students has increased as individuals who watch our video often have more questions about our programs," said Mayers. From April to December 2017, over 800 potential students sat down to watch the video.
Others who have viewed the video include high school counselors, business representatives, and external stakeholders. Showing others helps promote the college through word-of-mouth. For example, a business owner in Lac la Biche may not know there is a culinary program at the campus in St. Paul. Learning what Portage College has to offer at its various locations through the VR experience may encourage them to pass on that information to others.
The 360 VR tour video is also used as a tool to get people to connect with Portage College through our website. YouTube was our first choice for getting the word out, but the YouTube video received only 645 views. Another online social platform used solely for 360 video viewing—veer.tv—received just over 12,000 views, many from international locales. While the online component may be expanded upon as new platforms come into play, the current focus is on on-the-ground efforts.
The most recent strategy of the campaign has been to create Portage College cardboard goggles as giveaways. Potential students who use the Portage branded goggles to look at videos directly on their phone attract attention and interest in the college. Portage College plans to continue to use the goggles at functions and events for at least another two years.
Click here to see the virtual tour on YouTube.
Jaime Davies is Manager of Corporate Communications at Portage College in Lac la Biche, Alberta, Canada.
Opinions expressed in Member Spotlight are those of the author(s) and do not necessarily reflect those of the League for Innovation in the Community College.