Snead State Community College: Presidential Scholars Aspire to Success
January
2016
Member Spotlight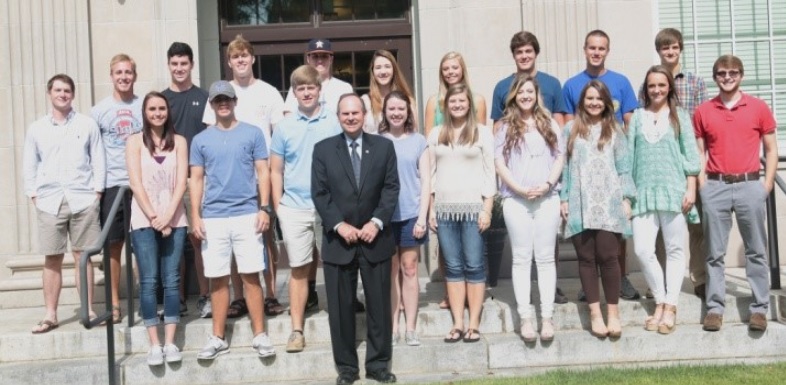 Snead State Community College began its Presidential Scholars program in 2009 as a leadership development opportunity for incoming students who demonstrated academic excellence. Including the 2015-2016 group, 62 students have received the distinction of Presidential Scholars, and the graduation rate among those completing courses at SSCC is 97 percent.
Presidential Scholars represent Snead State at a variety of events, including donor recognition and alumni functions. The students participate in two signature activities each year—completion of the BOLD team building ropes course at Berry College and participation in a one-credit seminar course (Leadership and Democracy) requiring a trip to Washington DC. The students must also complete a minimum of 20 hours of community service each year, but most participate in 40 or more hours of community service. The Presidential Scholars are mentored by Snead State President Dr. Robert Exley and led by Director of Campus Engagement Brittany Goble.
Landon Naylor, an alumnus with the Presidential Scholars program, said interaction with Dr. Exley is what sets the Presidential Scholars apart from other scholarship programs. "The amount of interaction the Snead Presidential Scholars have with their president is unique; I believe the same level of interaction would be hard to find anywhere else," said Naylor. "The best thing about being a Presidential Scholar was being given the confidence to feel that success would be possible anywhere outside of Snead and being prepared by the program to prove that feeling right."
Naylor has found success after his years at Snead. He graduated from Georgetown University in May. While there, he spent a year studying abroad in Italy, and in August he moved to Orlando to participate in the Disney College Program, a semester-long internship with a focus on living, learning, and earning at the Walt Disney World Resort. When he completes the internship, he plans to return to Washington and spend a few years working in the nonprofit sector. With a degree in art history, Naylor would eventually like to pursue a master's degree in art business and creative writing, with plans to establish a career in publication or arts sales.
"The Presidential Scholars program has led me already to places I never imagined, and I'll always know that every success I have in the future is the culmination of a series of events begun at Snead," said Naylor.
"Being named a Presidential Scholars is prestigious. The program is an entryway to the college experience for the participants, and their future is unlimited because of it. I'm honored to have the opportunity to interact with the scholars and encourage their success. I want them to reach beyond their current expectations for themselves and dream bigger," said Dr. Exley.
To qualify for the program, applicants must achieve a minimum 25 ACT score and a 3.75 GPA. Qualified participants are chosen following an application and interview process. The program began with four students selected to the program. Seventeen students will serve as Presidential Scholars for the 2015-2016 year. Participants are selected in the spring of each year to begin the following fall.
"When choosing Presidential Scholars, we consider their dedication to academic achievement and their leadership ability. We also look for students who show great potential to grow not only as a leader but as an individual because of their participation in the program," said Dr. Exley.
Other former Presidential Scholars have joined the workforce as a teacher, physical therapist, sports journalist, marketing professional, and nurse. Current participants are pursuing degrees in fields such as mechanical engineering, physics, pharmacy, and speech language pathology.
Opinions expressed in Member Spotlight are those of the author(s) and/or submitting college and do not necessarily reflect those of the League for Innovation in the Community College.